News
Sunday 27th August 2017
2017 International Conference on Geo-Resources Plant Technology for Oil & Gas (ICGPT 2017)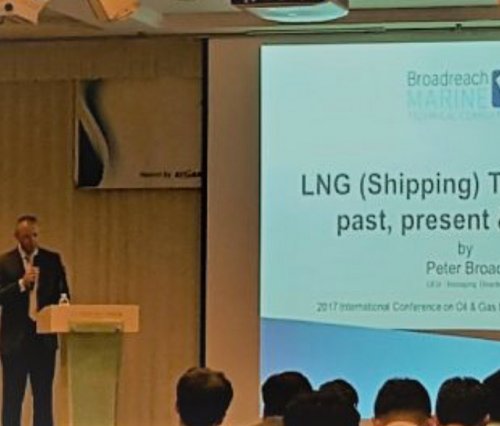 We were delighted to be asked to present a technical paper at this auspicious and prominent international forum by KHAN Offshore, one of South Korea's leading service providers to the marine and offshore industry.
The conference was hosted by:
KIGAM - Korea Institute of Geoscience and Mineral Resources
Organised by:
Mininstary of Science and ICT
National Research Council of Science & Technology
Sponsored by:
Korea Marine Equipment Reasearch Institute
Gyeongnam Technopark
The opening speach was given by Dr Young-Sup Joo, Ph.D., Former Adminstrator for Korean Small to Medium Business Association (SMBA), in which he spoke about the 4th Industrial Revolution and for Korean Industries to embrace new technology for the future development and exporting their capabilities.
Peter Broad prsented his technical paper entitled: 'LNG (Shipping) Technology, past, present & future'
While LNG Shipping does not fit exactly within the remit of ICGPT, as it deals more with the 'Supply Chain', Peter Broad's paper opend a number of interesting questions from the floor and some lively conversation at the break times. Particular areas of interst were Regasification and Reliquifaction technology for onboard LNG Ships and Global down-stream and up-stream infrastructure development.
For more information about the Conference and Peter Broad's Paper please e-mail us at: info@broadreachmarine.com
Please also see: www.khan-offshore.com